Zambezi White Water Rafting
Commercial rafting first commenced on the Zambezi River in 1981 and since then this activity has grown in popularity to the point where a Zambezi white water rafting trip is now a regular feature for many a tourist. The Zambezi white water is internationally acclaimed as the best one-day white water rafting in the world. We only use operators whose guiding team on the Zambezi are all accredited by the International Rafting Federation.
A tale of two rivers
The morning section of the river is classified as Grade 5 meaning that the white water is "extremely difficult and long with violent rapids, steep gradients, big drops and pressure areas". As adrenaline activities go, a full day or morning rafting trip in the low water season is probably the best white water experience you will ever have. And whilst it should be treated with the utmost respect, safety will always be a primary concern.
The afternoon section is slightly less challenging and is of a lower grade. Having said that, it isn't exactly a meandering cruise down the slow waters of the upper river. There are still rapids to be fearful of! You may have an easier time on the second half of the rapids but the Zambezi will not let you off that lightly. Classed as grade 4 generally, there are still a couple of grade 5 monsters in there to keep you on your toes.
The Batoka Gorge
The Batoka Gorge runs for 115km below the Victoria Falls, as the Zambezi River is constricted through this basalt gorge it drops off the Central African plateau creating the Zambezi's world famous rapids. This whitewater playground is classed as a 'Grade 5' river. Whilst the Zambezi river can be challenging due to the warm water and excellent guides, you are sure to enjoy your Zambezi white water rafting experience.
Is Zambezi white water rafting a seasonal thing?
The Whitewater Rafting season is split into the Low Water Rafting trips and the High Water Rafting trips. The Low Water season is usually between August and New Year, this is when it is safe to raft rapids #1 through to rapid #25. This is our dry season meaning we haven't seen any rain for several months. This means the water levels are low, thus taming the white water enough for safe passage. At this time of year we can run the entire 25km stretch of river from rapid #1 (under the Victoria Falls) through to #25.
When the river is high it is unsafe to raft from rapids #1 to #10. Known as the High Water season, the rains have started to fill up Zambia's rivers. This means there is a whole lot more water cascading over the Victoria Falls and getting squeezed through the narrow Batoka Gorge below.  The high water season Zambezi white water rafting trips operate from rapids #10 through to rapid #25. The High Water trip usually operates between New Year and July. Some seasons the river can rise dramatically and due to Safety concerns we stop rafting, this is often for a month either side of the rivers highest flow levels around the first week of May.
When is the best time to go?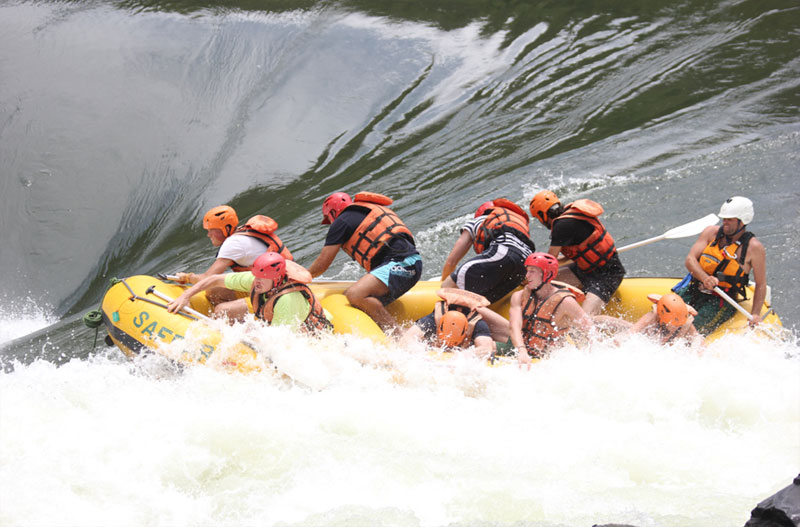 Everyone has different time constraints in Livingstone. We also all have different fitness levels and expectations. No matter what time of year you visit Livingstone, you will always be guaranteed a trip down the river unless the waters rise so high that the river is closed for a month or two. If this happens it will happen around April/May. Otherwise, Zambezi white water rafting trips run throughout the year.
It must be noted that during the high water seaon (Jan to July) only the 2nd half of the rapids are run. These can still be run either morning or afternoon, but rapids #1 to #10 are "out of service".
Which trip should I choose?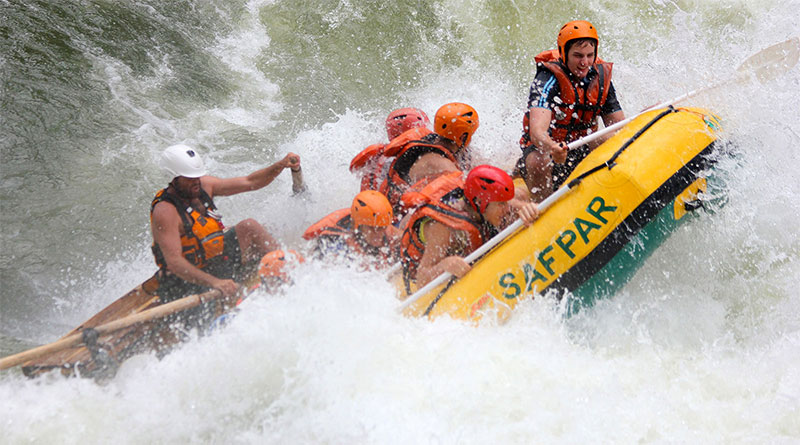 Whilst some people opt for the full 5hr experience of a full day trip between rapids #1 and #25, others may prefer the easier half-day option of the afternoon run from #10 to #25. Of course, the adrenaline junkies among you may find the morning trips from #1 to #10 may fit your schedule better. Either way, there is something for everyone.
Currently whilst work is being under taken on the cable car at rapid #25, all trips end with a 200m hike out of the gorge. This does require a certain level of fitness. Having said that, it is not a race to the top so a leisurely climb out is allowed. The same must be said of trips ending at rapid #10.
Anything else I can do on the river?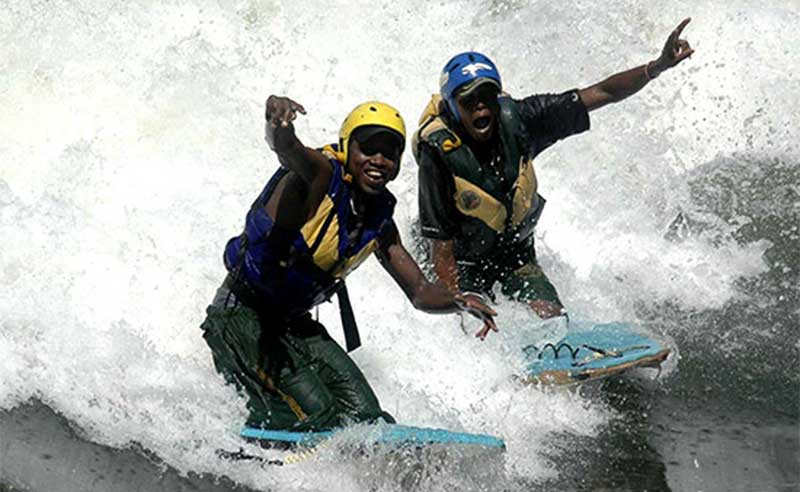 If you have been Whitewater Rafting before or want some extra adrenaline why not try River Boarding. River Boarding trips are run in conjunction with the Zambezi white water rafting day trips. You will be equipped with a body board and Churchill style fins enabling you to run the enormous rapids and surf the standing waves of the river. Experience with body boarding or surfing would be an advantage and a certain level of fitness is required as it can be very tiring. Imagine surfing a wave that never stops rolling!. If you do get too tired or find it too challenging there is always space in a raft that you can climb into. River boarding is run as a combo – half River Boarding and half Rafting allowing for an unforgettable experience of both. How much or little boarding you do is up to you.
All Zambezi white water rafting guides are qualified to the relevant International Rafting Federation requirements. All equipment is regularly audited and replaced. Every rafting trip carries a comprehensive first aid kit, radios and satellite phone. And All rafting trips are covered by Specialty Emergency Services for evacuation from the gorge should a life or limb threatening injury occur.
What is included in a Zambezi white water rafting trip?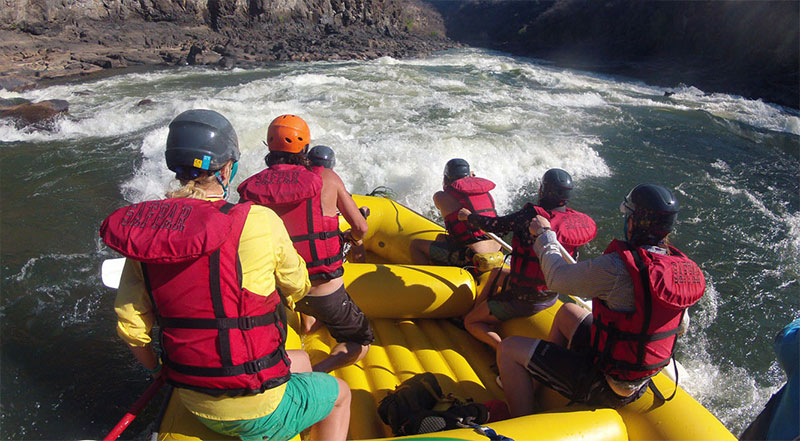 You will be provided with all safety equipment such as life jacket and helmet. At the end of your Zambezi white water rafting trip you will be provided with a video of your day's events free of charge. the video is optimized for sharing with your friends on social media. Each trip includes transfers from wherever you are staying to and from the trip. Lunch is provided for each trip, irrelevant of which trip you opt to take. Drinks are provided throughout and a safe/dry box is provided for any delicate equipment such as cameras.
Please note: It is advised that you keep your valuables locked away wherever you are staying. We do not recommend you bring them along on your trip. This includes phones, cameras and passports.
Prices
WHITE WATER RAFTING

SEASON

TRANSFERS

PARK FEE

PRICE

Half Day – Low Water – AM, Rapids 1 – 10
Approx July-Jan
incl
$10.00
$150.00
Half Day – Low Water – PM, Rapids 11-25
Approx July-Jan
incl
$0.00
$160.00
Full Day – Low Water – Rapids 1 – 25
Approx July-Jan
incl
$10.00
$160.00
High Water – AM, Rapids 11 – 25
Approx Feb-Jun
incl
$0.00
$160.00
RAFTING/RIVERBOARD COMBO

SEASON

TRANSFERS

PARK FEE

PRICE

Half Day Combo – AM, Rapids 1-10
Approx July – Jan
incl
$10.00
$180.00
Half Day Combo – PM, Rapids 11 – 25
Approx July – Jan
incl
$0.00
$190.00
Full Day Combo – Rapids 1 – 25
Approx July – Jan
incl
$10.00
$190.00
High Water Combo – AM, Rapids 11 – 25
Approx Feb – Jun
incl
$0.00
$190.00
Related Pages
Alec Cole
Zambezi River Cruises
Explore the tranquil upper Zambezi on a sedate cruise whilst sipping your drink of choice. The cruise takes you along the river boundary […]