Looking for Livingstone dining with a 5* touch?
Livingstone dining does not get better than this. Whilst we think that our Bongwe cuisine in our various outlets is fantastic, we have to bow down to the chefs that operate at the Elephant Cafe. The food here is simply at another level. The Elephant Café is a tented exclusive 5 star restaurant built on a wooden deck which hangs over the Zambezi River, upstream from Victoria Falls. The restaurant sits only 24 people making for a quiet and exclusive dining experience. And if that is not enough, the restaurant forms the backdrop for a riverside location that is home to a herd of hand reared elephants.
Interact with the resident elephants
The older elephants have been rescued from various appalling situations such as culling and drought over the years, whilst the younger ones have either been naturally assimilated into the herd or born into it. The elephants have grown up with safe human support and their handlers utilise the "positive reinforcement method" as a way of ensuring they do not harm other human beings. They are gentle giants and a joy to be with. Being in such close proximity to these magnificent animals is both an exhilarating and a nervous experience.
The Elephant Cafe is the only restaurant in the region where customers can interact with elephants while dining on fresh locally-sourced and wild food. Visitors can feed the elephants their favourite snacks and mingle amongst them whilst learning about their history and how they came to be "lords of the manor" – the gate keepers of the Elephant Cafe. A truly magnificent experience.
A dining experience never to be forgotten
This 5 star Livingstone dining experience offers, in the words of their head chef
"African fusion food, created with wild and locally-sourced ingredients, inspired by European, Asian and Middle Eastern cuisines. The fine dining menu changes according to the seasonal ingredients that are available at any given time. The chefs pride themselves on offering unprocessed, preservative-free food that is produced in Zambia."
Supporting the local community
The Elephant Cafe support their local Livingstone growers, as well as the surrounding communities who help to forage for their wild ingredients. The "bush gourmet cuisine" is unique to The Elephant Café and provides each visitor with unique yet exquisite flavours. Many of the wild nuts, fruits and leaves that are used in the menu are also much loved by elephants.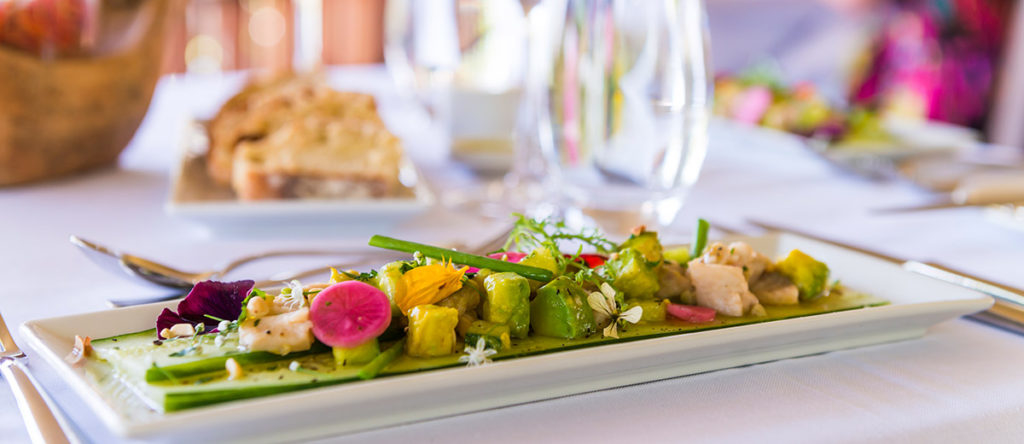 Related Pages
Alec Cole
Zambezi River Cruises
Explore the tranquil upper Zambezi on a sedate cruise whilst sipping your drink of choice. The cruise takes you along the river boundary […]